As you begin planning your dream wedding, you might search for unique and romantic ways to make your special day even more unforgettable. That's where custom neon signs come in! Imagine you are walking down the aisle to the soft glow of a neon sign displaying a sweet message for your partner. Or perhaps you envision your reception space transformed into a romantic wonderland with elegantly designed neon signs adding a touch of glamour.
Custom neon signs can be personalized with your special message or wedding hashtag, making them a truly one-of-a-kind addition to your big day. And with their versatility and creative potential, neon signs are the perfect way to add a touch of romance and personality to your wedding. In this blog, we just want to share a story that takes place with a customer who wants a big surprise for his wife-to-be. We are honoured to witness their love and hope the romance in the air could strike you.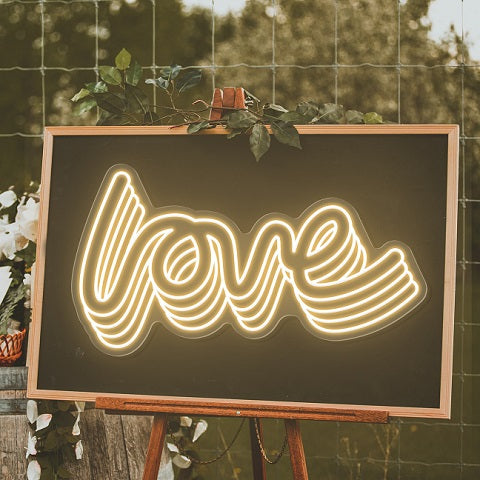 As the sun set over the city, Mike nervously paced back and forth in his apartment, trying to devise the perfect plan to propose to his girlfriend of five years, Rachel. He had always known that Rachel was the one for him, and he wanted to make their engagement as special and memorable as possible. 
That's when he hit upon the idea of using custom neon signs wedding to propose. He knew that Rachel loved the warm, playful glow of neon lights, and he wanted to create something truly unique and heartfelt for her. And he wants to find a shop that knows how to make a custom neon sign. 
Mike reached out to us via online contact and explained his idea: a sign with "The rest of our lives, you&me together." in bold, romantic letters. NeonWill was excited to take on the project, and Mike couldn't wait to see the finished product.
 Finally, the day of the proposal arrived. Mike had planned a special dinner at their favorite restaurant, and as they sat down to enjoy their meal, The restaurant excused to "sudden blackout." The whole place was in the dark. But just a few seconds later, the custom neon sign mounted on the wall are shining, he was holding a small box with the proposal ring inside, saying the same words as on the neon sign: "The rest of our lives, you&me together."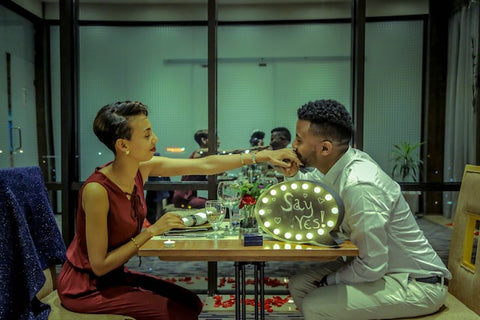 Rachel's eyes lit up with joy as Mike got down on one knee and asked her to marry him. She said yes, and the neon sign served as a warm and romantic backdrop for their special moment. 
From that day on, the words neon sign served as a symbol of their love and commitment, they left the neon sign in the restaurant and wrote a message with photos expressing their thanks for our neon signs. After understanding the great romantic, we also offer a gift for the sweet couple: a DIY custom neon sign with the words "May 30, 2022❤" and it hung proudly in their home as a reminder of the magical night when they first became engaged.